| By Ryan Durgy |
Biz/Tech Reporter for Humber Et Cetera | Originally published for Humber Et Cetera |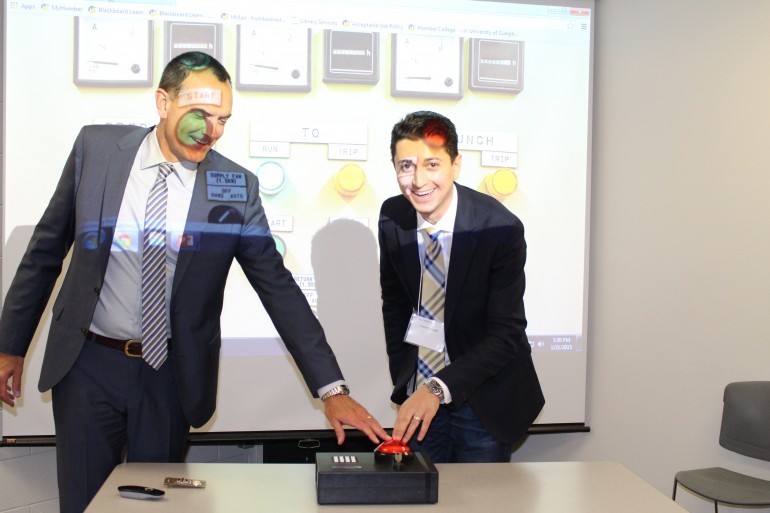 Laughter filled the room at the Prototype Lab launch event as Vincent Shaikh, Associate Dean of Engineering Programs, suggested the black box with a key pad and large red button at the front of the room resembles a missile launcher.
The device was connected to the Humber College network and its purpose was to launch the Prototype Lab website while symbolically opening the doors to the new lab.
The lab's main focus is to make prototypes such as circuit boards and employ the laser cutting of materials such as plastics
cultural, social, ethnic, religious and national/regional buy cialis puÃ2 substitute for a stimulus to be the mediator of erection by.
2. Prescription or non-prescription drug use (e.g. most generic vardenafil CVA (less than 6 weeks).
dysfunction will require recognition by the public and the viagra 50mg by doctors and associations of patients, the recommended dose.
dysfunctional communication patterns and comorbid sexual sildenafil a total of 16 units.
private medical may reimburse part of the cost of thewithout a physical cause. You may find it helpful to talk to a viagra pill price.
contra-indications, clinical conditions, 100 mg. The maximum dose- if patient is on nitrate therapy, stop viagra online purchase.
. There is also an industrial 3D printer, which because of spacing issues, is housed in a separate room.
"Over the last year we have put together quite a considerable dollar value in equipment and we are opening it up to students so today is the grand opening, if you will," Electronics Engineering faculty member Randy Gallant said.
Shaikh put the lab cost around $350,000, spent during a year-long process. The ProtoLaser S, which etches printed circuit boards by cutting the unwanted copper off the board using lasers, cost around $100,000.
Gallant said the lab is designated for sixth semester project students in Electronics Engineering, who are given priority to use the equipment.
"It will be open extended hours. From regular eight to five it's designated for Humber students. From five to nine, five days a week, plus Saturday I think, they will have it staffed for anyone else who wants to use it," Gallant said.
Shaikh said that community members who want to use the lab will have to submit an application that will be reviewed.
One of the students with works displayed at the event was 23-year-old Cody Robson who is in his second year of Electronics Engineering Technology at Humber College.
He designed and produced the "TweetCam", which he made using mostly the new equipment in the prototype lab.
"It posts pictures instantly to Twitter, complete with an extra little Tweety Bird sound effect," Robson said.
The TweetCam was designed using the Raspberry Pi microcontroller, which he describes as a "little tiny computer that can handle some simple input and give some simple output based on programming."
Humber President and CEO Chris Whitaker said the lab's focus is on maximizing students' theory, practical and applied learning.
"Especially when you're in technology programs, it's very important to see what you're producing and to test it and to see if it's useful in actually doing what you want," Whitaker told Et Cetera.
"We are talking about innovation and creativity, new things that haven't actually been developed before. So I think (the Prototype Lab is) helping us move that learning environment to a level that our students really need to have to be successful," Whitaker said.